The use of a flexible pond liner offers design flexibility. They allow you to create a pond that works well with your surrounding garden landscape. A preformed fibreglass mould allows you to create a garden pond just as easily but are generally a more expensive way to achieve a stunning water feature in your garden. The real benefit of a pond liner is that you can expand the size of your pond at a later date if you so choose or you can add features such as a waterfall or bottom drain.
Want to build a wildlife pond in your garden with a beached are and planting shelves? All that can be achieved with a rubber pond liner. The design flexibility offered means that you can create easy access for wildlife. Your pond liner is also likely to last more than 25 years.
Flat sheet pond liners offers the flexibility to build a pond that suits your requirements. Types to choose from include Epalyn (EPDM rubber), Butyl and PVC. Overall, pond liners made of rubber are recommended, as they are more durable, resistant to extreme weather conditions and easy to work with.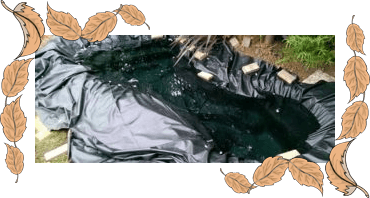 Butyl pond liners can withstand the severity of both frost and UV radiation. Although thicker than the PVC pond liners, Butyl is still remarkably flexible and easy to use. Butyl is ideal for larger installations due to its much tougher qualities.
Epalyn pond liners are also more rugged than PVC liners. They are better for cool climates and offers UV resistance and has high expansion as well as contraction characteristics. Epalyn can be obtained in various"grades" (thicknesses).
Unlike preformed ponds, rubber pond liners can be easily shaped to fit the contours of the pond shape, allowing for a more unique design. Once a rubber pond liner has been installed correctly, it will require little or no regular maintenance.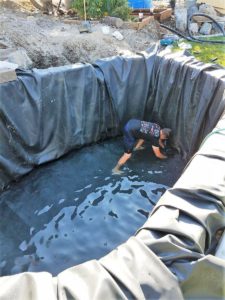 For a lined pond, it is also wise to invest in a protective underlay, which acts as cushioning material between the pond liner and the surface of your pond excavation. Before buying your pond liner and and underlay make sure you know the exact pond liner size required.
When building a pond it really is all down to choice and wether you want a more natural looking pond build that you are likely to take on as a growing hobby.