Pond liner dimensions are critical to the perfect finish of your pond build. In this article we offer advice on how to take accurate measurements of your pond and use them to calculate the amount of pond liner and protective underlay you will need to order.
The use of pond liners in pond construction offers greater flexibility in pond design versus using other materials to line and retain the water. One factor to consider when you go creative with a pond design is to ensure you use the correct dimensions to calculate the exact amount of pond liner and underlay to order to complete the job properly with minimal wastage plus ensuring enough to add an overlap – visit 'Pond planning and construction' for more information'
Measuring the dimensions of a pond is a straightforward process irrespective of whether the pond is kidney-shaped, square, rectangular or circular.  The following steps should be followed: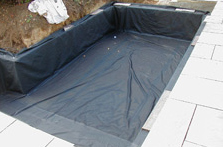 Measure the longest length of the pond,
Measure the widest width,
Take measurement for the deepest depth,
Now, add one side (Length or Width) to two times the depth plus amount needed for the overlap (0.2″ or 0.15m).  The depth of the pond needs to be multiplied by two because the pond liner needs to go down one side of the pond and back up the other side.
The pond liner calculation will look like this:
Length + (2 x Depth) +2" = Total Length of Liner
Width + (2 x Depth) + 2" = Total Width of Liner
The size of pond liner required can be calculated as: Maximum length + (2 x maximum depth of pond) x maximum width + (2 x maximum depth). Or, take each measurement and use a pond liner calculator to do the calculation for you.
L-Shaped ponds:
Measure the maximum depth
Measure the length of the two outer longest sides of the pond.
Multiply the maximum depth measurement by three and add it to the two longest lengths of your pond to get pond liner dimensions required.
Ponds with an island or raised plinth:
Measure the maximum depth of pond and multiply this by four,
Measure length and width of pond
4 x maximum depth + length x width = pond dimension
Use our Pond Liner Size Calculator to get the size liner and underlay you need to order, but for L-shaped and ponds with a plinth it is best to phone us at Liners Online (via submitting a Contact Us form or phone on 01526 399 033 to ensure the correct liner dimensions are ordered.