Knowing which pond liner is considered to be a high quality pond liner, how much to order and where to buy are questions many aspiring garden pond owners want an answer to. It is also about the financial outlay and getting the best value for your spend.
A high quality pond liner will play a vital role in the containment of water particularly for those built on porous ground. A pond liner manufactured from synthetic rubber material is considered high quality. Should they tear or get punctured, they can be repaired without too much disruption to the pond. Although, this will depend where in the pond the leak occurs and therefore where the liner is punctured. Synthetic rubber pond liners, Butyl and Epalyn (also know as EPDM) are available to order from a number of pond supply websites and garden centres. Pond liners can be purchased according to your own set of dimensions or you can select from pre-cut pond liner kits.
Which high quality pond liner to order?
Butyl and Epalyn rubber pond liners (EPDM) are considered to be the best on the market based on the following features:
Display excellent properties of both durability and flexibility which means they can be readily manipulated into various pond shapes and sizes
They are better for cool climates and have superior UV resistance
High expansion and contraction characteristics that enable it to conform to objects below the pond
Should earth movement occur, such as settling, Epalyn high elongation properties will enable it to stretch
Very stable in extreme temperatures and other environmental conditions
Easy to repair either of these materials (although damage is minimal when installed above a protective underlay)
Epalyn and Butyl feel and perform in a very similar way
Non-toxic to fish and other pond inhabitants
Kind to the environment as they don't leach chemicals into the ground
The technical difference, however between Epalyn and Butyl is the polymer. To be called Butyl the sheet must contain more than 50% butyl polymer. The polymer is the ingredient that makes the sheet elastic. In most pond grade Butyl there is usually a percentage of EPDM polymer mixed in. Epalyn, however is made with 100% EPDM polymer. EPDM polymer is more readily used around the world in a range of industries as well as for lining ponds and it is generally cheaper.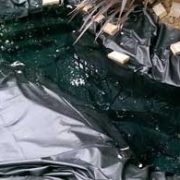 If you are planning to build an ornamental pond whether to house KOI fish or for a display of water lilies then a box-welded pond liner is best suited to this design. Box-welded or tailored-to-fit liners are most frequently fabricated from Epalyn rubber liner material. The main advantage of this type of liner is that it fits perfectly into a vertically-sided formal pond design without any creases or folds thereby creating a neat finish.
For Koi enthusiasts wanting to build an formal shaped Koi pond, Liners Online pond liner supplier will need the exact dimensions of your pond to fabricate a box-welded pond liner for a snug fit.
For all other creative pond designs we supply flat sheet pond liners and have a pond liner size calculator on our website to help customers with measurements.
Liners Online have more than thirty years experience in the water containment and waterproofing industry so can offer support and expert advice on garden pond construction as well as pond liner installation.