Spring special offer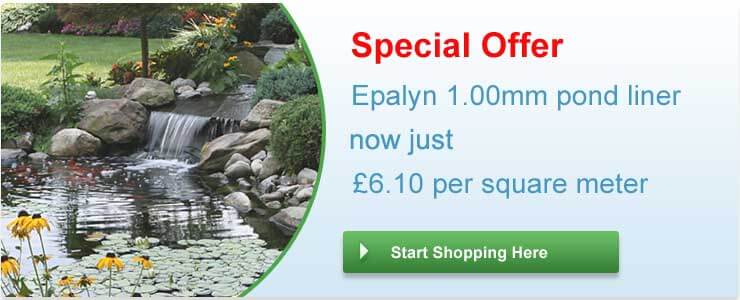 Liners Online special offer for Spring 2019 on our Epalyn 1.00 mm pond liner.
Pond Liner Kits
Standard Pond liner kits include either a Epalyn 0.75mm, Epalyn 0.85mm or PVC pond liner cut to a set size, plus a pond underlay (0.5mm Geotextile – thicker and of higher quality) cut to the same set size plus a tube of waterproof pond sealant. The pond liner kits are a great saving versus buying items individually.  The waterproofing sealant has many users and this kit offers the chance to include it in materials most needed when planning a garden pond build.
Adhesive underwater  pond sealant
can be applied to a wide range of different materials such as pond liners and stone,
solvent free,
easy to apply,
gives an instant repair to rubber Epalyn and Butyl pond liners – repair a tear in your pond liner without having to drain your pond,
highly effective when used to seal in a bottom-drain to your pond.
to apply, first clean the surface of your pond liner of all traces of grime and algae
non-toxic to fish and other pond inhabitants