A quality tumbling compost bin will make home composting easier and aid you in your efforts to improve the environment. By choosing to recycle and make your own compost at home, you are contributing to a decrease in landfill waste as well as reducing CO2 emissions. So with all these benefits, why not invest in a tool that will help simplify the home composting process?
Benefits of a tumbling compost bin 
When you're considering making your own compost, it is important to remember that aeration is vital for the organic matter to break down properly – and this is the reason why simply dumping your waste does not help the environment. So, when comparing a standing compost bin to a tumbling compost bin, there are a few factors you need to consi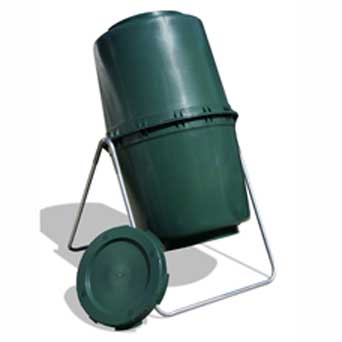 der. Firstly, a tumbling compost bin does exactly what its names states – it tumbles – and the rotating function is what ensures that the organic waste gets the aeration it needs to decompose and produce high quality compost. If you use a standing bin, you would need to aerate the compost yourself with a shovel or garden pick. This process is not as effective and it means more effort for you and may ultimately cause damage to the bin itself as well. The second factor to consider is the strength and durability of the bin. A tumbling compost bin is made of stronger heavy-duty materials than a standing bin as it is designed to support the full load of the compost. Standing bins are constructed from thin plastic, which means that sunlight and cold weather could cause the bin to become weak and damaged over time.
Finally, we need to consider convenience. Working with compost can be a messy and smelly task! A tumbling compost bin empties from the top and is mobile, meaning you simply have to wheel it over to where the compost is needed and tip it over to access the contents. Standing bins, which empty from the bottom, are immobile and therefore require a lot more hands-on participation. By recycling your organic waste as compost at home, you are making a far more significant impact on the environment than you may think – and you will also enjoy the benefits in your own garden by nourishing your plants with all the essential nutrients and minerals they need. At Liners Online, we are committed to environmentally friendly practises and we offer an extensive range of garden products – from pond liners to solar lighting, tumbling compost bins and a whole lot more. So contact us today and make a difference!