Pond liner use is two fold, namely to retain the water in your pond and to maintain water quality. The choice available to pond builders is either a preformed pond liner, flexible flat sheet liner or to line with concrete (the latter of which is seldom used today due to cost, maintenance and durability). Flexible pond liners include PVC or a rubber pond liner of which the options include Butyl or Epalyn (also called by it's generic name – EPDM rubber liner). Flexible, flat sheet pond liners offer the best choice in pond design and the ability to create a more natural looking pond build.
Pond liner advise as given by the experts
buy the best pond liner you can,
don't buy a pond liner in isolation but also give serious thought to the protective underlay
don't buy your pond liner and underlay until the exact dimensions of your excavation are known (to avoid wastage or disappointment!)
allow enough pond liner for an overlap around the edges to secure in place by using appropriate materials such as boulders or paving bricks.
Best quality liners are Butyl and Epalyn rubber liners. There is no financial compromise with these genuinely high quality products. Butyl is the most well known pond-lining product in the UK although Epalyn (EPDM rubber liner) is surpassing it's popularity die to the price differential. Both types of rubber liners are hardy and have great qualities such as flexibility and elasticity. They are unaffected by all weather conditions and temperatures. They are also much more heavy duty versus PVC and are less likely to be damage. So, now to decided between Butyl and Epalyn? Both are high quality, but Epalyn has a higher specification, is slightly more flexible, has the same guarantee and is considerably more cost effective. So if cost is the deciding factor, then Epalyn would be my choice of pond liner. But, lets look at each in more detail.
PVC pond liner for ornamental ponds
The most common type of garden pond liner is made from PVC (Polyvinyl Chloride), supplied as standard 0.5mm thickness. This type of pond liner is ideally suited for smaller, ornamental type pond designs. It is robust enough to last for at least 10 years provided it is installed above a protective underlay liner. PVC is flexible so it will readily follow the contours of your pond. However, it does need to be fitted correctly as it doesn't stretch readily so will damage if you try to fit into narrow gaps and crevices.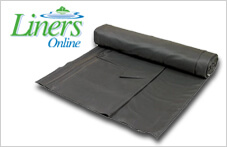 PVC has limited UV resistance so it will turn 'brittle' if exposed to too much sunlight, causing it to crack. PVC also does not repair well, going brittle when a repair treatment is applied.
The key benefit of a PVC liner is the price, being the cheapest option on the market, so if you have a tight budget, then PVC will suit your needs, especially if the pond is small. If you are keen to turn your build to a hobby and are aiming at a designer pond to house Koi fish, then it is worth investing in a superior quality liner. It will last longer, and if needed will repair with far greater success. Sharp objects in the ground, such as stones, can pierce a PVC pond liner much easier than a Butyl or Epalyn. 
Butyl pond liner for larger pond builds
Butyl is a synthetic rubber membrane with excellent properties that make it far superior to the standard PVC pond liner. Butyl can be used for more demanding applications such as the lining of ponds and lakes. Butyl is more costly and this is due to the rising cost of the rubber polymer that creates Butyl. This rubber liner offers superior stretch qualities and is highly puncture resistant. Butyl pond liners have for a long time been the ultimate choice, however with the more recent availability of a cheaper, equally high quality alternative, Epalyn has now 'knocked' Butyl off it's pedastal.
Butyl generally comes with a guarantee from 25 years to a lifetime when installed above a protective underlay. Butyl and Epalyn have a matt finish, which is a great advantage for pond keepers not wanting a shiny 'new looking' liner as with PVC. 
Epalyn liners for a superior build  
Both Epalyn (EPDM = ethylene propylene diene monomer) and Butyl pond liners are a synthetic rubber membrane with exceptional physical properties with a similar look and feel to them. Epalyn is flexible and resistant to UV, sunlight and a wide range in temperature extremes. It is tear resistant and unlikely to crack when installed with a protective underlay.  
If you are serious about your pond and want a liner that offers lifetime protection, then Epalyn is an excellent choice.  It is non-toxic to fish, offers far superior qualities versus PVC liners and offers a vast range in pond design flexibility.  If we were to recommend a pond liner for your pond build, it would be a Epalyn 0.75mm or 0.85mm – or 1mm for large ponds or lakes.  It is black in colour and can be recycled, which is a good feature for those that prefer environmentally-friendly choices.
We hope that we have offered you sufficient advice and information about the choice of available pond liners, be it a PVC liner, Butyl or Epalyn rubber pond liner.  
Tailored-to-fit or Box-welded pond liners