Ponds are the perfect addition to any size garden. A water feature soon becomes a magnet to wildlife attracting them into your garden in a way that makes you feel very honoured to have their presence.  Ponds bring a sense of relaxation and reward. One aspect to maintaining a healthy environment is ensuring you don't over-stock with fish. So here are simple formula to calculating pond water capacity.
There are many things to consider when planning a garden pond build, such as where the pond is to be sited, budget for the project, materials required and whether it should be a wildlife or fish pond. As part of the construction process you will need to measure the dimensions of the hole dug for your garden pond to calculate how much pond liner and protective pond underlay to order to minimise waste. Following these steps, you will also want to know the volume of your pond to then be able to shop for the correct size pond pump and filter.Knowing the volume of water also helps determine how many fish you can stock and the average number of aquatic plants to add in order to maintain a healthy environment.
To calculate the water capacity of a rectangular or square shaped pond, multiply the length of your pond by the width and by the average depth. All measurements which are taken in meters will give the volume in cubic meters (or Imperial measurements to calculate volume in gallons).
Calculating the water capacity of your garden pond
The basic formula for calculating the volume is to measure the L x W X D as shown in this diagram. If you build in sloping sides or shelves then off-set an amount from your calculation. This is done by measuring the bottom width by the top width and averaging it out to get a total width.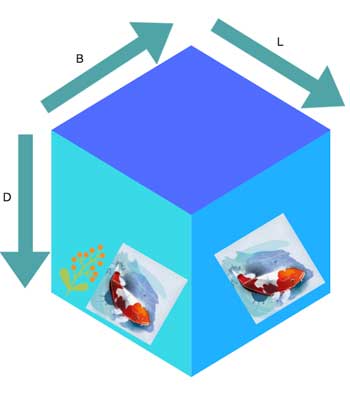 There is no need to concern yourself about being absolutely accurate in your measurements as it will still give you a good indication of the amount of water in your pond.
e.g A rectangular pond measuring 2.5m long x 1,2 m wide and o.4 m deep x 1000 = 1200 litres or 264 gallons
For a circular build, multiple the diameter by the depth.
Irregular shaped ponds are a bit more of a challenge but with the help of a friend or family member it can be done by laying a piece of string around the perimeter getting as close to the edge as possible. Take a measurement of the length of the string and divide that number by 4. Then take that number and multiply it by itself to get the surface area. Multiply that by the average depth of your hole to give volume in litres or gallons.
Example: Length of string = 20 meters divide by 4 = 5
5 x 5 = 25 = surface area x 2m depth = 50 000 litres or 10 998 gallons.
When taking measurements ensure it is from the longest length, longest width and deepest part of your build.
Useful Articles