Geotextile protective underlay is a tough, permeable material that is used to separate, reinforce and protect the primary pond liner from being punctured by rocks or other sharp objects. Geotextile is made from high quality mechanically bonded polyproplene and available in different grades of thickness for different application types. Geotextile, as sold by Liners Online is needle punched in the manufacturing process to add 'air' to the fabric to give it highly effective cushioning properties.
A lot of effort (and money!) goes into building a pond so it is worth the extra spend installing a pond liner protective underlay. The integrity of a pond liner is compromised when installed directly onto the ground because the force exerted by the weight of the water onto the pond liner will push it down onto any rough points in the ground creating straining points that may puncture over time. Water weighs one tonne per square meter, so that is a lot of force pushing down on the pond liner of an average size pond.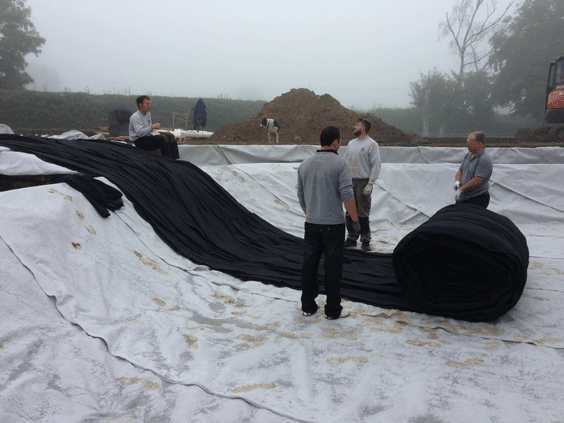 Geotextile underlay also acts as an escape route for any gasses that may build up under a pond liner. For garden pond designs that include the placement of soil, gravel, rocks or concrete features above the pond liner, then it is highly recommended to install Geotextile both above and below the pond liner for added protection.
Geotextile protective underlay installation
Dig the hole for your pond to the desired size and shape. Use a  spirit level to ensure the ground around the periphery of your pond dug-out is level.
Prepare the top most layer of soil by removing as many stones, rocks and roots as possible. Use a granular fill if you find any weak soil pockets. Smooth the ground as much as possible.
Take accurate measurements of your pond to order the exact size Geotextile protective underlay.
For large ponds wider than the role of underlay, ensure a sufficient overlap (by 12 to 18 inches) so that any ground movement won't expose the pond liner to any rough, stony ground risking a puncture. 
For garden pond builds it is important to lay a protective underlay first. Geotextile is permeable and has the ability to reinforce and protect all types of pond liner.
When laying over the ground, secure it is place using ground pegs or boulders so it doesn't slide out of place when installing the pond liner.
Why install a protective overlay liner?
There are a few situations where protective underlay liner is used on top of the pond liner such as around the edge of a pond before the stones or slabs, that will form the border of the pond, are put in place. Similarly, if your pond features an underwater shelf or platform for shallow water plants, those areas too should use a protective overlay. The presence of an overlay can also provide some protection against the sharp claws of pet dogs or cats – and even the stab of a heron's beak!
Another area that can benefit from a protective pond liner overlay is underneath objects such as stone features or plant containers that you add to your pond. Or, when creating an attractive pebbled pond floor. As well as protecting the pond liner, the textured surface of the fabric will discourage pebbles and other features sliding about.
You might find our previous Blog article 'How to get your pond liner size just right' helpful in calculating the right size for your pond liner and underlay to avoid over or under ordering.