A protective pond underlay provides a barrier between the ground and the pond liner. Many pond liner manufacturers will only offer a guarantee on their liner if it is installed above a protective pond underlay. But, the type of pond underlay used is considered in the guarantee on the pond liner.
Why is a pond underlay important?
The primary function is to prevent any sharp stones puncturing the pond liner and thereby guaranteeing the longevity of the pond liner.
Water constantly moves about and it bares a lot of weight down on the pond liner so if there is anything sharp in the ground such as stones that comes into contact with the pond liner whether it be a thick, durable rubber pond liner or a PVC liner they will in time puncture.
A further reason for installing a protective pond underlay is that it will deflect roots growing from surrounding plants away from your pond liner. This again reduces any risk to pressure being applied to the pond liner, which in time could lead to puncturing.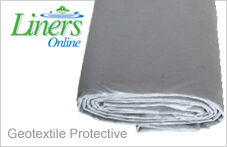 Geotextile protective pond underlay liner
This is the standard underlay installed by most landscape professionals and pond enthusiasts. Geotextile is non-woven and made of polypropylene fibres that are needle punched making it look and feel like felt. It is used to resist puncturing, for soil stabilisation and gas transmission making a pond liner more durable and long lasting.
What about alternative protective underlays
The question asked by some DIY pond hobbyists is whether lining a pond dug out with carpet or newspaper will offer the same protection and perform the same function as a geotextile pond underlay. Non-organic carpet or newspaper will form a barrier and puncture resistance but there are a few points to consider:
the carpet needs to be free of staples and non-rotting
pond liner guarantee from the manufacturer will become non-void if either carpet or newspaper used
the ease of moulding a carpet over the contours of a pond
the effort involved versus the cost of a geotextile pond underlay (£1.15m2)
Carpet may start to rot and smell after ten years and no longer offer protection
When installing a pond underlay, smooth it out into the contours of your pond as best as possible. Make sure you have ordered enough for an overlay which can then help secure the underlay in place using boulders while you install your pond liner.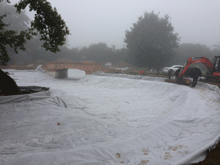 Want extra advice on installing your underlay and pond liner? Read this article >> Need Help Installing Your Liner