Pond liners are used in pond builds to prevent water lose through ground seepage and to provide to keep the water quality high. Different types of pond liners are available to meet the needs and budgets of those wanting to install a pond in their garden.
Flexible pond liners are by far the most popular choice of pond lining material. The main reason is the versatility of flexible liners offering the option to fashion almost any shape and size pond. This type of pond liner as available in the UK includes PVC, EPDM and butyl.
The key consideration when building a pond is which type of pond liner to choose. To help you make an informed decision, here is a detailed overview of each pond liner type:
PVC pond liner – ideal for small ponds
PVC (Polyvinyl Chloride) is the most frequently purchased pond liner due to it being readily available from many garden nurseries or home DIY stores. This type of flexible pond liner has many good attributes, however it has it limitations too particularly for the more serious pond enthusiast.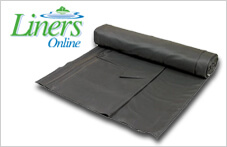 PVC pond liners are U.V. stable as long as they aren't exposed to direct sunlight, non-toxic therefore safe for plants and fish. PVC liners have a lifespan of 10 years or more. One drawback with PVC liners is they are slightly less resistant to freezing temperatures and have been known to crack along the folds during winter.
An inexpensive pond liner at a cost of around £1.90/meter2 – therefore, an ideal choice for the budget pond builder
Flexible and easy to work with
Easily repaired if damaged or punctured
Considered best for small pond builds as it is not as robust as the rubber pond liners – Epalyn (EPDM) and Butyl, which are better suited to bigger, more demanding pond builds
Easy to fold or pleat the liner when installing into a small pond including those with tight corners and shelves
PVC is, however less resistant to adverse weather conditions and goes brittle at temperatures close to freezing. It is therefore advisable to install a PVC pond liner on a day when the temperature is around 80C or warmer. To protect the PVC pond liner from UV rays after installation, expose as little of it as possible by maintaining the water level and adding stone or similar edging material around the pond with a slight over-hang.
Has a life span of around 5 to 10 years – PVC does not age as well as rubber pond liners.
High quality rubber pond liners – EPDM and Butyl
Pond liners of a high quality are designed to be resistant to UV rays and temperature extremes. They are tear resistant and have a life expectancy well over 25 years.
Epalyn (EPDM) versus Butyl rubber pond liners
Epalyn is considered the best of all the pond liners and makes an excellent choice for ponds. Like Butyl, it offers exceptional physical properties – flexible, resistant to UV rays and temperatures with no cracking especially when installed with a quality protective underlay. Epalyn, also known as EPDM is highly flexible, U.V. stable, resistant to air pollution, has a lifespan of over 25 years, is non-toxic to plants and fish and it performs well in colder climates. Epalyn is one of the least expensive of all pond lining materials.
This is a pond liner for serious pond builders and is suitable for most pond designs including ornamental ponds requiring a tailored-to-fit liner. Sheets of Epalyn pond liner can be hot bonded together for large pond builds.
Epalyn pond liners and Butyl are both a high quality material and can both be manipulated into various shapes and sizes. They are also both durable and stable at extreme weather conditions as well as being UV resistant. Both materials can also be readily repaired if required.
The technical difference between Epalyn and Butyl is the polymer. To be called Butyl the sheet must contain more than 50% butyl polymer. The polymer is the ingredient that makes the sheet elastic. In most pond grade Butyl there is usually a percentage of EPDM polymer mixed in. Epalyn, however is made with 100% EPDM polymer. EPDM polymer is more readily used around the world in a range of industries as well as for lining ponds, therefore is generally cheaper.
For tips on installing your chosen pond liner, visit this article on >> Pond Planning and Construction