Many people across the UK are quoted as saying Spring is their favourite time of the year. We love the vibrant colours that light-up gardens, fields and forests. The warmth of the sun invigorates us and people suddenly seem to emerge from hibernation as they start to fill the garden nurseries, parks and walk ways. So to celebrate this exciting time of year as we leap forward into Spring this week-end, Liners Online are offering all enthusiastic gardeners pondering a pond build a special offer price on their Butyl pond liner.
Lining a pond with a flexible pond liner will guarantee more than 25 years of successful water containment provided the liner is protected by first installing a protective underlay to protect liner from sharp stones and gravel pushed to the surface through ground movement.
Pond liners made of 0.75mm thick butyl synthetic rubber have been successfully used in the UK to line ponds for over 30 years. It is considered to be one of the best pond liners on the market. This type of pond liner can be used for all types and sizes of pond installations including ornamental or formal shaped garden ponds, lakes, and reservoirs. Butyl is frequently used as the pond liner of choice to make box-welded liners for installation into ornamental, regular shaped ponds.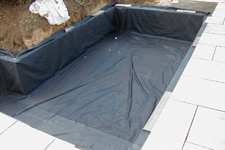 Superb features of Butyl pond liners
UV stable and therefore copes with longer periods in the sun
Widely accepted as one of the best, most flexible and hardy on the market
Excellent elongation properties
Non toxic to wildlife and plant-life
More easily repairable in the unlikely event that it does get damaged
Building a pond ready for the summer is a great way to get out into the garden and do something amazing for wildlife and to bring uniqueness to your outdoor space. To help you 'Spring into Action', Liners Online are offering Butyl pond liners at a knock down special of £6.90/m2.