Rubber pond liners offer the easiest way of creating a reliable, high quality pond that will last for several years.
Rubber pond liners are renowned for their ability to hold water while remaining highly flexible in a wide range of temperatures. They offer good ozone, abrasion and tearing resistance when used for water containing functions.
Uses for flexible rubber pond liners
Ornamental fish ponds
Wild life ponds
Reservoirs
Portable water storage tanks
Box-welded pond liners
Water gardens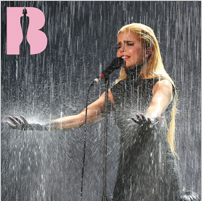 Pond liners such as Butyl and Epalyn (EPDM) have been used for many water containment projects other than to line a garden pond. Liners Online recently took orders for their Epalyn pond liner, which was used to line the stage at the BRIT awards 2015 for Paloma Faith's song, 'Only Love Can Hurt Like This'. The stage performance required a torrential downpour of 'rainwater' on to the artist and cast and therefore the stage had to be fully water proofed.
The Sadlers Wells Theatre in Islington have also used rubber pond liners for various stage settings.
Wooden pallets have been up-cycled for use as horizontal herb or flower gardens. To keep the soil confined to the wooden pallet, a pond liner has been used to line the back of the wooden pallet – again for the function of water containment, but also to mobilise the soil. An wooden whiskey barrels can be turned into a water feature by first lining it with Butyl or Epalyn then filling with water and aquatic plants.
With so many uses for pond liners due to their high quality specifications it is no wonder the demand for such material has been expanded into other projects requiring water containment.
Have you used a flexible rubber pond liner for a project other than to line a pond that we haven't mentioned here?