Pond liners are flat sheets of material used to line a pond to contain the water and help to maintain a healthy equilibrium for all pond inhabitants. Ordering a flexible pond liner need not be a difficult, time consuming task. If done correctly you can place your order with minimal time or financial wastage.
To make the ordering process more straight forward, Liners Online have pre-cut pond liners to commonly ordered dimensions and have made these available to order as a pond liner kit. The kits include a standard size pond liner, protective underlay cut to the same dimensions and a tube of waterproofing sealant. If you know what pond liner dimensions to order, then there may well be a pond liner kit that matches your requirements. If your garden pond design is more complex or you are not sure what dimensions to order, we have an online pond liner size calculator that will do all the maths for you.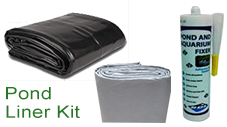 To use our pond liner size calculator you need to measure the exact dimensions of the hole you have dug. Measurements required are as follows:
the longest length,
the depth at the deepest part of the pond
the widest width
After taking down each of these measurements, type them into our calculator. The pond liner calculator will give you the dimensions you need to order.
If you have a pond that is L-shaped, has an island or a plinth, pond liner dimensions would need careful measurement to reduce wastage. In these circumstances, divide the pond into two or more sections and follow the same process as before. For instance an L shaped pond would be divided into two rectangular parts. The only one difference would be that the depth for the side (length or width) of the pond where the two liners meet only needs to be measured once. This is because the liners will be joined together on the ground. We suggest adding an extra foot or two when doing this type of calculation for the overlay and in case of small errors. Pond liner repair mastic tape should then be used to seam the liners together. If this seems to complex, then it is advisable to Contact Us to discuss the pond liner dimensions required – we have years of experience in measuring for the most complex of pond designs.
Remember to always add an extra 15 to 30cm to your calculations for the overlay. This is required to secure the pond liner in place using the edging materials. The overlay dimension added to your calculation depends on how you plan to finish your pond edging. If you are going to use earth to hold the liner in place, add a 30cm overlap to the pond liner size calculations. If you are going to use paving slabs or bricks to hold the liner in place then a 15cm overlap needs to be added to your calculations.
Pond liner kits from Liners Online are available in Epalyn 0.75mm, 0.85mm and PVC liners cut to standard sizes. Why have we added a tube of waterproofing sealant to the kits? Many of our customers order their pond liners and then when fitting the pond pump or edging they realise they need to seal around them to keep the pond 'water tight'. We therefor decided to save customers time and money spent on postage by combining the three essential items to initiate your garden pond build.