Pond liners serve two main functions in pond construction. A pond liner is impermeable and maintains water retention – stops ground seepage.  They also serve to keep sediment and other debris out of your pond. Today shops and online stores are filled with a choice for every conceivable item and pond liners are no exception. But, knowing what qualities in an item to look for to give the best return on investment can make the experience less daunting. To assist you with your pond build, we have listed SIX important qualities to look for when buying a pond liner –
durable,
frost-proof and withstands exposure to extreme weather conditions,
rot-proof,
elastic /flexible – making it more manageable to install
resistant to the pressure of growing roots,
unaffected by exposure to ultraviolet rays,
doesn't leach chemicals – therefore no risk to the health of fish, aquatic plants or the environment
Durability is based on number of years of use without requiring replacement. Butyl and Epalyn (also known as EPDM) rubber pond liners have over 30 years of use with excellent outcomes reported by many pond owners and Landscape gardening professionals. Rubber pond liners are made of natural materials and display all of the above mentioned key product features.
Qualities of a flexible pond liner?
Flexible, flat sheet pond liners have become the preferred choice for pond builds based mainly on the flexibility they offer for pond design creativity. They can be used for any type of water containment requirement – a fishpond, a stream, bog garden or ornamental pond.
Dark coloured pond liners give a great impression of depth while light coloured pond liners blend in well with surroundings. Majority available on the UK market are dark in colour – black.
Pond liners can be bought off the role to specific size dimensions or as a prepacked size. They are manufactured to standard widths so if your pond exceeds 6 meters, a flexible rubber pond liner such as Butyl or Epalyn (EPDM Rubber) can be bonded together to meet the requirements of all pond sizes with the join guaranteed to be leak proof.
Flexible pond liners allow you to design a pond that matches the landscape and style of your garden. Knowing what size pond to build is the next step in the planning process, but the best advice is to go as big as your garden will allow.
When you start the digging process, use the soil dug out to build an embankment around half to three-quarters of the way around the edge to provide shelter – being creative with the earth dug from your pond will take the stress out of having to transport it for use elsewhere. Use plants to make it look creative.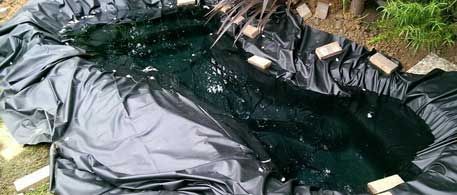 Once you have built your pond, you may then be tempted to want to extend it to take water in or out – all of which is possible with ponds lined with a flat sheet pond liner – preferably a make that displays all 6 important features to guarantee low maintenance and pond/stream longevity – as it poses no limitations on design and creativity. If you want to build a gently flowing stream that falls in shallow steps, you need to dig out enough ground to create a drop of around 1 to 1.5 meters. A bigger drop will require a more powerful pump, which will cost more and use more energy therefore higher long term expense to be aware of. A gentle stream looks more natural in a typical sized UK garden.
A flat sheet pond liner offers the best qualities when building and lining a stream to prevent water lose. Extend your pond liner over the surrounding ground to reduce water lose and secure in place using gravel and large pebbles.
I hope this has offered some useful guidance when searching the market for a means of containing the water in your garden pond. A low maintenance pond will free up more time to tend to your fish and/ or aquatic plants. Need information on the features and benefits of Butyl or Epalyn pond liners? Then visit >>