Pond maintenance is important throughout the year with each month having its list of actions that will need attention. Ongoing maintenance will ensure the water in your pond and it's inhabitants continue to thrive from season to season.
For many of us, April has had unpredictable weather patterns which have seen snow, frost and high winds with a few warm sunny days too. With average temperatures around or marginally below the average for April, you will be forgiven for not being on top of your gardening and pond maintenance. But, we hope that the Easter week-end will bring warmer weather and inspire you to get both 'Summer' ready.
Now that the weather is warming up, it is the perfect time to introduce new plants to your pond. If you have a more established pond, it is important to thin out existing oxygenating and marginal pond plants (when they become too invasive and out grown their growing baskets). Cutting back aquatic plants will allow enough sunlight in to warm pond water and allow photosynthesis of submerged plants.
If you notice any signs of stringy blanket weed when tending to your pond, remove all traces as soon as possible. Dealing with Duckweed or Blanket weed as soon as possible reduces the chances of pond life being chocked by these oxygen sapping unwelcome plants.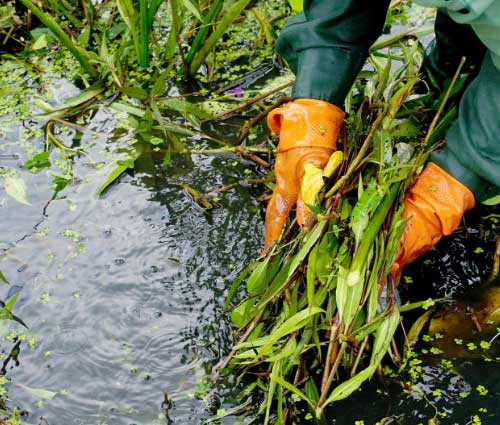 Doing a few pond maintenance tasks each month will go towards a ensuring a thriving pond and a spectacle to enjoy during the warmer months of the year.