Gardens with a wildlife friendly pond or water feature have a strong chance of seeing frog spawn around about this time of year, marking the start of Spring. Frogs tend to return to the same ponds every year towards the end of February to beginning of March to lay frogspawn. Once they have spawned, the frogs return to dry land to feed.
Frogspawn can be found under water in the shallow sections of a pond. Once laid, frogs need a quick and easy exit from the pond or risk drowning. If you have steep sided pond walls, and you know your pond is likely to attract frogs, then provide a means for an easy escape. Wildlife ponds should always have ledges or natural plants dangling into the water which can be used as a means to reach dry land. Even a plank of wood floating in the water can secure their exit. Ponds built using a pond liner offer more design flexibility including creating a beach-like effect at one of the edges to invite wildlife to visit with ease and their safety – although there is also the risk of visiting herons. Providing boulders for frogs to hide under will offer protection from danger.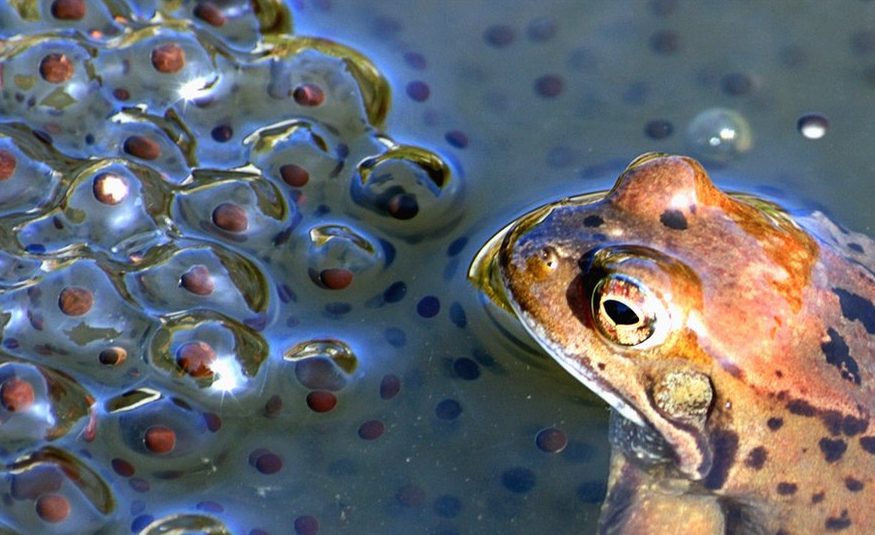 Frogs like damp, cool surroundings and will find shelter under boulders, rocks or vegetation and return to a pond late summer to cool down in the water or at the waters edge.
Have goldfish in your pond? This could affect your chances of witnessing frogspawn or tadpoles swimming about. Why? Because goldfish are carnivorous and the presence of frogspawn and tadpoles would be too tempting to resist unless you can provide hiding places using pebbles.
Frogs live harmoniously with nature and are harmless to both garden and humans so discovering their presence in your garden should be one to celebrate – besides they eat flies and garden pests so invite them in!
For tips on how to plan your garden pond and install a pond liner to create your own master piece, read this article 'Discover Some Basic Garden Pond Planning Tips'.