So, you have agreed to build a pond in your back garden. After confirming where your pond is to be sited and the desired size you want, the next step would be to decide how you are going to line your pond.
Choices of pond liner include a preformed pond liner, treated concrete or a flexible pond liner. Each of which have their advantages and disadvantages to be considered.
Concrete pond liner
A concrete pond liner involves skill and lots of time to install. It is an expensive choice when the cost of commissioning a professional concrete layer and treatment costs to the concrete to stop it leaching chemicals into the water (potentially affecting water pH and health of pond inhabitants) are added together. The upside of a concrete pond is that it will last for many years – if not a life-time.
Preformed ponds
A preformed pond liner, in contrast is far less expensive and is quick and easy to install. Dig a hole big enough for the preformed pond, drop it into the hole and back file around the shape – it's that simple! However, this choice has limitations when it comes to pond design and size.
Flexible pond liners
With the advancement in technology, a flexible pond liner is proven to be the preferred choice expressed by many pond owners. The two main reasons given are that they are affordable, can be shaped to virtually any type of pond design, easy to maintain, fish-friendly and can add any type of edging around the pond to create the pond of your dreams.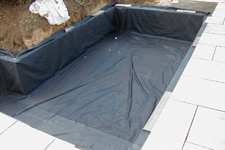 A good quality pond liner needs to be frost proof, durable, resistant to ultra-violet rays and should not rot – all qualities of which a rubber pond liner such as Epalyn and Butyl will offer. Due to possible ground movement, a pond liner also needs to be flexible enough to be resistant to pressure from growing roots.
Flexible pond liners are dark in colour, which gives a pond a greater feeling of depth. Rubber pond liners such as Epalyn (EPDM) are made of natural materials and are kind to the environment.
Epalyn pond liner offer key benefits
Flexibility: Epalyn remains highly flexible even at very low temperatures (down to -45° C), enabling year round installation.
Superior elongation properties: can elongate over 300%, which enables the membrane to stretch and conform to the contour of a pond.
Weathering resistance: withstands ultraviolet radiation without any sign of degradation or cracking.
Quick and easy installation: Epalyn rubber pond liner can be welded together for large pond installations. Highly flexible allows for manageable installation.
Low maintenance: little, if any regular maintenance after installation. Epalyn pond liners are known to perform to a high standard for over 30 years.
Environmentally friendly: an inert material with low environmental impact during production and use. Epalyn is an EPDM (ethylene propylene diene monomer). It can be used for all installations and can be fabricated into a tailored-to-fit liner .
Epalyn pond liners are the ultimate product for UV resistance. Available in three thicknesses – Epalyn 0.85mm and 1.0mm are the same as 0.75 mm but gives added piece of mind with the extra thickness for more demanding applications.
The role of a pond liner is in water retention. Ground that is permeable to water and has a low clay density, needs a means to prevent water lose through ground seepage. To avoid water lose, pond builders have a choice of pond liner to create a low maintenance pond.
Happy pond building!