Box-welded pond liners are fabricated using either Butyl or Epalyn (EPDM) pond liner. When you order a box-welded or tailored-to-fit pond liner from Liners Online pond specialists, you will receive the Geotextile protective underlay cut to the exact dimensions absolutely free.
What is a box-welded pond liner?
Box-welded pond liners are fabricated to fit formal shaped ponds. These are generally square, rectangular or L-shaped ponds but not exclusive to these shapes. A circular pond with steep vertical sides can also be catered for. If a more curvaceo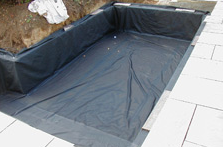 us design is wanted, then a rubber pond liner can be hot-bonded together to give the same formal look as a box-welded pond liner. The most noted feature is that this type of liner is free from folds and creases giving a pond a formal, neat appearance. Butyl or Epalyn are used because they are very flexible, durable and can be readily manipulated into a vertical sided shaped pond.
Advantages of fitting a box-welded pond liner 
fit exactly to the shape of the pond with no unsightly folds or creases.
easy and quick to install. 
made to the exact pond dimensions with a lip to secure it in place using sandstone coping or your chosen edging slabs/rocks.
high quality long-life pond liner used.
welded corners and flanges with no site joins or flaps – hot bond vulcanised for maximum strength
To place an order or get a quotation simply go to our Contact Us page to fill in your pond details or telephone us on 01526 399 033. We will need the length, width or the diameter and the total depth of your pond together with the size of the lip required (150mm (6") is standard). Box welded pond liners are prefabricated in our factory and welded to the specified dimensions so that the finished product simply drops into the hole with a perfect fit.