"Ponds are a lovely addition to any garden and can provide a rich habitat for a range of wildlife. However, without care ponds can soon become an eyesore with overgrown plants, weeds and water that is unhealthy for fish and other wildlife. Occasional cleaning and regular maintenance are required." as quoted by the Royal Horticultural Society. With that in mind, here are 7 spring pond maintenance steps to get your pond ready for the months of warm summer weather.
A pond that is well maintained during the Autumn are less likely to require a lot of work at the start of Spring versus those where leaves and dead plant matter have been left to sink to the bottom, and aquatic plants haven't been cut-back ready for the next growing season. Just as gardens need regular attention, so too does your pond!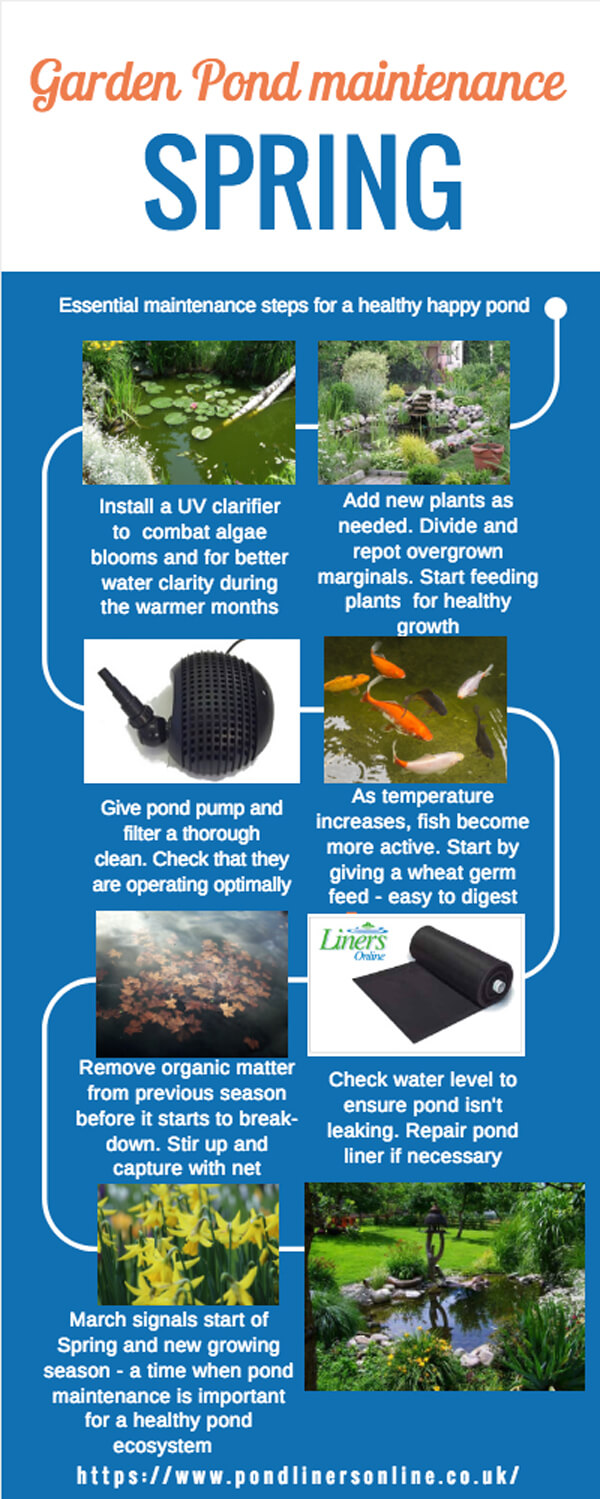 Spring pond maintenance tips
Give your pond pump and mechanical filter a good cleaning. If you have a bio-filter, then return it to your pond. For more of pond filters, please refer to the next paragraph, which discusses the two filter options and seasonal maintenance requirements.
Remove leaves or other debris that may have sunk to the bottom of your pond – as the water warms up, any debris left in your pond will start to decompose and affect the health of fish.
Check your fish for any illnesses or wounds.
Divide and repot pond plants. Avoid re-potting with soil full of organic matter. Most water plants grow well in sand and don't require fertiliser. Water lilies are, however, an exception and do require fertiliser for a healthy growth. Water plants get their nutrients from fish waste. If you have extra plants after you have divided them, you may want to consider growing them in low, damp spaces in your garden.
For fish ponds, make sure that up to half of the surface of your pond is covered with floating plants as it gives the fish a place to hide from predators and keeps them cool in the heat of the summer. It also keeps the sun from encouraging algae growth.
If your pond is lined with a pond liner check that the material you have used for the edging is still in place, sufficiently covering the pond line to prevent any possible damage from claws or the UV rays – rubber pond liners are UV stable and will withstand long periods of UV exposure – but, a bare edging exposing a pond liner can detract from the beauty of the pond.
Start feeding your fish small amounts initially but a good guide is to feed enough that will be consumed within 5 minutes
Pond filter options for your garden pond
A mechanical filter works by filtering out dirt, solid waste and algae from the pond water drawn in via a submersible pond pump. Water passes through foam, coarse sand, and filter granules to remove waste matter. This type of filter is inexpensive and usually installed in the pond. It is effective as soon as the system is switched on and can be run intermittently.
A bio-filter or biological filter, works by creating a suitable living environment for certain types of bacteria which 'clean-up' the waste material that fish produce – breaking down the waste and recycling it. Fish waste is excreted in the form of ammonia (which is toxic to fish). The naturally occurring bacteria in a pond, known as nitrosomonas breaks down ammonia into nitrite using oxygen to do so. Nitrite is then converted by the bacteria, nitrobacter into nitrate – an important plant food .  An essential spring pond maintenance step for a bio-filter is to return it to the pond and give it a boost of a bacteria/enzyme product to ensure the good bacteria colony starts to grow quickly. Bio-filters efficiency is affected by oxygen supply, temperature and water flow.
If you keep fish then it is advisable to run both a pump and filter (either a bio or mechanical filter) to keep the water clean and simplify pond maintenance. For ponds with aquatic plants only, you should be able to get away with little or no filtration. You can refer to this website for detailed information about the mechanics of pond filters – Pond Filtration Basics
Spring pond maintenance should be seen as a time to step outdoors and relish this amazing time of the year when nature awakens from her winter slumber.