Flexible pond liners are the most popular choice because they allow for more pond build options. These versatile pond liners include Butyl and Epalyn (EPDM). They can be cut to fit any shape pond.
Butyl is a close relative of Epalyn (EPDM) . Butyl synthetic rubber (Isobutylene Isoprene Rubber) has been a popular choice of pond liner for more than four decades due mainly to its long life characteristics. It shares similar properties to Epalyn however it is considered to be slightly more durable and carries a higher price tag (unless you take advantage of Liners Online special offer on Butyl pond liner). Butyl is known for its' excellent flexibility and is non-toxic to fish and all other aquatic wildlife. Relatively easy to work with and fold into the contours of a pond.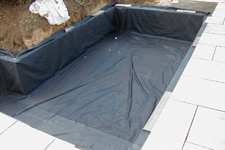 Advantages of Butyl pond liner
Safe for all aquatic life
Withstands exposure to a wide range of adverse weather conditions
Highly flexible
Pond liner of choice for a wide range of pond sizes and shapes
Superior durability in exposed applications
Can be factory seamed for bespoke Box-Welded pond liners as used for formal pond builds
Extensive years of use suggests that Butyl pond liners will last for over 35 years
Can be permanently repaired with self-adhesive repair tape
Butyl pond liners are considered the best choice for tailored-to-fit or box-welded pond liners.
In short, Butyl offers the same advantages as Epalyn (EPDM) pond liners and really does depend on choice as both synthetic rubber liners offer the best technical specifications which include longevity, durability with low risk of damage during their lifetime (provided they are placed above a protective underlay liner and aren't exposed to sharp objects or constant contact by animal claws), ease of installation, design capabilities and weather resistant. The choice of pond liner should be the most critical step in your pond build process. Whatever your choice of pond liner, make sure it has longevity – a pond which starts to lose water at the stage of maturity is not what any pond owner wants to have to deal with.
Happy pond building or making of the right pond liner reinstallation choice.
Author: Lynette Holroyd