There are a wide range of pond pumps on the market generally of two main types: external or surface pumps and submersible pumps. Both are designed to circulate water in the same way.
Submersible pond pumps, as their name indicates, are designed to operate while fully submerged in water. They are low-voltage and generally more suitable for small to medium-sized ponds. Before buying a pump decide how many litres of water you want to move per minute and how far vertically the water needs to be pumped – the vertical distance from the surface to the top of the delivery pipe.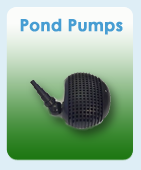 Surface pumps can sustain a larger output for longer periods than submersible pond pumps and are therefore suitable for larger ponds. They should be positioned as close to the water surface as possible. The performance of the pump will be reduced the higher it has to move water up from the pond water level. A surface pump should be provided with well ventilated dry housing with easy access.
Most pond pump stockists will provide performance tables showing flow rates for each pump and selection will be based on the flow rate you require for your garden pond.
Another point to consider when choosing a pond pump is that although relatively silent, a surface pump does create an endless drone which can spoil the tranquil sound of water – however, planting vegetation around the pump house can 'drown-out' most of this droning noise.

Pond pumps, no matter what make or type, needs a maintenance check at preferably at the end of the summer season for them to operate optimally over a long period of time. To do this, remove the pump from your pond and dismantle all the parts setting them aside neatly. You need to clean each part carefully with fresh water. The use of detergents must be avoided while cleaning the parts of the pump. Detergent can harm the fish if the pump is not rinsed properly. Clean the filters too and make sure that there are no blockages or damage to any part of the pump.
For information about our garden pond pumps, please visit our website or contact us on 01526 399 033