The availability of flexible flat sheet pond liners allows for design flexibility. Ponds need not be a regular square, rectangular, or a round shape. Flexible Epalyn and Butyl rubber pond liners mould to the contours of ponds, are durable, resistant to the damaging effects of ultra-violet rays and won't go brittle with age. Ponds with adventurous shapes add charm and fascination to any amount of garden space. To calculate the pond volume of an irregular shape is a little more challenging and less likely to give an absolute accurate surface area measurement relative to regular shaped ponds. In this article we offer a few tips on how to calculate pond surface area and average pond depth to get as accurate a pond volume as possible.
Calculating the volume in gallons or litres is important if you are wanting to stock your pond with fish. It is also necessary to help determine the size pond pump to reach pond water turnover. Having an accurate measurement of pond volume is also important if ever you have the need to add healthy bacteria or algaecide to the water.
Steps to calculating pond volume
To calculate pond volume of a regular shaped pond, you need to measure the length, width and the depth in either meters or in feet. If your pond is an irregular shape the easiest approach is to divide your pond into regular shapes, determine the surface area of each shape and add the sum of each together. If, for instance your pond is kidney shaped, then divide your pond into three basic shapes – two circles and a rectangle. Measure each separately. Add the three totals together and then multiply by the deepest pond depth to determine volume.
Taking measurements is easiest done prior to filling your pond with water.
Draw a square or rectangular shape around your pond by knock stacks into the ground and using string to get as a accurate a shape as possible.
If a single rectangle doesn't fit the shape of your pond, then add other shapes to the layout – or a combination thereof
Measure the longest length then do the same for width.
Using a sheet of graph paper draw out the shape of your pond using these dimensions.
From your drawing of an irregular shape divide it into shapes that are easy to calculate surface area – trapezoid is half the width multiplied by the addition of the two lengths, a triangle is half of base x height and a circle is 3.14159 x radius2.
Or, take a length of rope and lay it around the perimeter and calculate surface area as per example:
Pond is say 14 meters
Divide 14m by 4 = 3.5m
Multiply 3.5m x 3.5m
Equals surface area of 12.25m
Multiply that by the deepest depth of 2m
Volume of 24.5
Multiply by 1000 to get volume in litres.
If pond has been filled with water you can get a depth measurement by wading into your pond with a stick and marking off the depth/s.
Volume is surface area multiplied by the deepest depth – for ponds with out ledges.  For those with planting ledges, again divide your pond into sections as per the different depths. Measure each depth then add them together and divide by the number of measurements taken.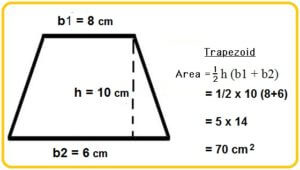 The purpose of calculating pond volume is to make sure you buy the correct size filter to maintain adequately healthy water conditions for the long-term well being of all pond inhabitants. All filters have a guide to the maximum pond size they will cope with. Manufacturers recommend that the entire volume of a pond should be passed through the filter approximately every two or three hours. It is important to also note that for a filter to work efficiently, it must be teamed with a pond pump that supplies it with a sufficiently strong flow of water.
Knowing the size and capacity of your pond also allows you to calculate how may fish and number of plants to add to your pond. If you intend to have a highly stocked fish pond then it is advisable to install a filter to cope with one and a half times the capacity of the water in your pond.