Frogs will only visit a garden if the 'right' invitation is there. Habitat destruction is the main cause for frog numbers being in decline, but there are steps we can take to help 'save' the frog particularly in urban areas. Building a frog pond is a great way to invite frogs into your garden and by creating a perfect habitat for them to thrive in. All you need is a flat piece of ground about 2m x 2m in dimension plus an extra area in your garden you can use to create a warm, humid environment as frogs spend more time out of the water than in so need both to thrive. Unless your garden has a very high clay soil content, you will also need a sheet of pond liner and protective underlay to contain the water. If you want a natural look to your pond, you can cover the pond liner with a pond-friendly top soil and secure pond plants in place using aquatic planting baskets.
Not sure how much pond liner and protective underlay liner to order? Measure the length and breadth of hole plus the depth. Put these measurements into a Pond Liner Size Calculator.
Factors to consider when building a frog pond
You need to factor in the following when drawing up your plans for your frog pond: pond shape, depth, location, plants for the pond, edging material and frog-friendly garden habitat.
A pond – whether for fish, wildlife or ornamental needs to be located where it will receive some direct sunshine daily. Dig your frog pond to a depth of around 60cm (24 inches) – this is enough to attract the attention of wildlife without the risk of them drowning in water too deep to exit with ease. When building your pond, make at least one side sloping into the water or create a beach effect so frogs and other wildlife can come and go without too much effort.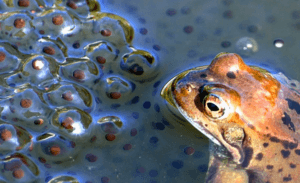 The best advice with regards to adding aquatic plants to your frog pond is to go native. Visit your local garden centre and ask which plants are native to your area. An online search may also offer some good advice. Include submerged plants which will keep your frog pond oxygenated and thereby maintain a healthy ecosystem. Use aquatic soil to plant – nutrient rich gardening soil will create perfect conditions for algae growth therefore best avoided. Water violets and marsh Marigolds are a good native option.
What do frogs need?
Well, we all know that frogs like water – however, most of their lives are spent on land with a preference for damp, humid conditions such as leafy mulch, which will provide shelter, place to hibernate and a perfect source to forage for food. Frogs return to water to lay frog spawn.
Frogs love to eat all the bugs and creatures most gardeners and pond owners hate – moths, mosquitoes, snails, slugs, flies and beetles. If you attract frogs to the garden you can practice organic gardening without the temptation to whisk out a bottle of 'pest control'!
You can't force the invitation for frogs to join your garden party. They are most likely to wander in when they feel you have created the perfect environment for them to thrive. Forcing them in risks spreading any unwanted parasites and risk losing their presence completely.
Butyl and Epalyn (EPDM) rubber pond liners or PVC liners are wildlife friendly and are the perfect ingredient for creating a water-tight frog pond in your garden. If attracting wildlife to your garden is your goal for creating a pond, make sure that there are sufficient means to exit the water to reduce any fatalities.
Happy frog pond building!
Other related blog articles: