A question frequently asked by new pond owners is how to deal with the unsightly presence of blanket weed. Blanket weed in a pond is a sign that there is an imbalance. Not only is blanket weed unsightly, but can deplete your pond of oxygen and as a consequence threaten the life of pond wildlife.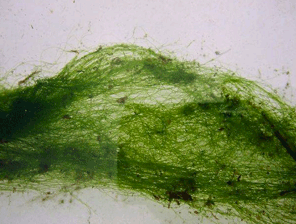 Blanket weed is a type of algae and is also sometimes referred to as string algae due to the long filamentous strand that forms a green, foamy pillow on the water surface. It thrives in water that has high nutrient levels and where there is plenty of sunlight due to not enough plant foliage covering the water surface. Too much sunlight creates ambient water temperatures, which blanket weed loves. The more blanket weed grows, the more difficult it is to get rid of.
There are primarily two ways of dealing with blanket week:
use of chemical treatments
Whatever the choice of treatment, the most important step in eradicating blanket weed is to not to harm the ecosystem in and around your garden pond.
Ways of treating and preventing blanket weed taking over
Increase the competition for nutrients in your pond by adding aquatic plants and wildlife. Less nutrients will slow the growth of blanket weed.
Manually pull out the weed – however, this does not always prove successful. If, when pulling out the weed, filaments break there is the risk of releasing spores back into the water and re-introducing growth of a new population.
If you keep fish, ensure you don't feed them more than they need to limit uneaten food floating in the water increasing nutrient levels.
Add barley straw extract to the edges of your pond.
It is always important to maintain a healthy ecosystem. If not, blanket weed will continue to be a problem. Too many fish will upset the balance due to the high levels of waste they create thereby increasing the nutrient levels. When adding plants to your pond it is best to plant in baskets and immerse in the pond rather than adding soil directly to the pond liners – again to reduce water nutrient levels by reducing the amount of nutrient rich soil. Add water lilies to create the right amount of shade over the water. Plant a range of aquatic plants and keep your pond free of debris such as leaves in the Autumn months.
Ponds are a beauty to behold and, with a small amount of regular maintenance will continue to add both beauty to any garden and the perfect haven for many wildlife creatures.