Sent 26 April 2021:
"Pond liner arrived yesterday. We fitted it today. Really happy with results. Thank you. Great quality and the ideal liner for our pond. Kind regards Diana" 
Sent 1st June 2020:
"Thanks for getting the pond liner to me so promptly once you realised the order had got lost. Here is a picture of the new  pond which I have been able to finish now". Kind regards Chris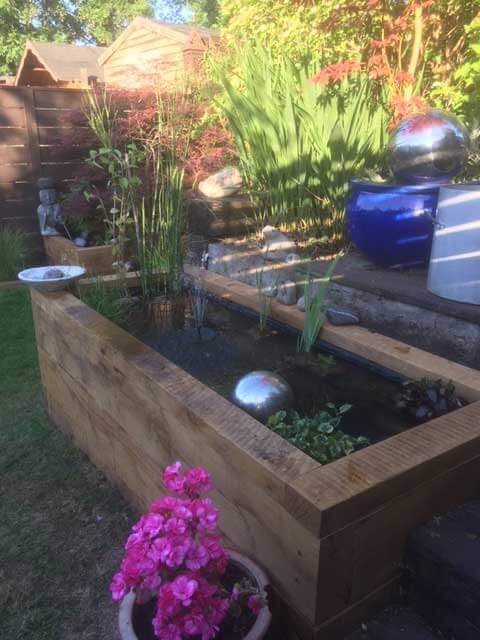 ---
Sent 31 May 2020:
"Very many thanks for my order of Epalyn 1.00mm and Geotextile underlay, which arrived promptly and the contents have now been installed.
The quality of the Epalyn is excellent, the frogs, the newts and the
water lilies who have all started to take up residence would, if they
could, send their thanks too; for them it is a matter of life or death.
Well done! keep up the good work!" Gordon
---
Sent 7 May 2020:
"Just wanted to thank you for getting the liner and underlay to us in these difficult times on schedule. Lovely quality and we now have a great pond.
Stay safe," Esther Cook
---
Sent 4th July 2016:
"Just thought I would drop you guys a quick line to say thanks for you help with my liner. Not an easy one being an l shaped pond. Great service and the guy that came up to weld it was great as well. I will also send a video of the nearly finished pond!" Cheers again Andy .
---
Sent: 31 May 2016:
Thrilled to receive a positive customer review‬ following the successful installation of his box-welded ‪pond liner‬ we fabricated using Epalyn 1.0mm pond liner  "After two full on days the liner is in, the fish are in and it all has worked out perfectly! Thank you very much, I am really happy with the product." Regards Dave
---
Sent: 19 August 2015 
"The pond liner arrived safely today – please pass on our thanks to all involved for getting our order out so speedily. The pond is now empty and ready for the liner so that is brilliant".
Thanks again, Richard
---
Sent: Wednesday, July 15, 2015
Hi just a quick email to thank you for your service. Pond liner fits perfect and looks great. Will recommend you.
---
"Just to let you know the liner arrived last Friday as promised and to my amazement and relief it fitted quite well (I was not very confident about the accuracy of my measurements) so that you very much for doing such a good job. I have quite a lot of landscaping to do before it is finished so I am hoping for a few more dry days. When it is finally finished I will send you a photo which should explain the odd shape". Regards – Mike B
---
24 May 2013
"Thank you for prompt delivery of my pond liner and underlay, you said Thursday and Thursday morning it arrived. But you didn't deliver the sun to go with it so i could unwrap it and line my pond. tut tut. Regards Sheila"
---
"I just thought I would say thank you for arranging the delivery of our pond liner exactly on time.  It took some huffing and puffing from 4 of us to get it in place but we got there.  We were fortunate enough to find an "old boy" who has been doing dry stone walling for nearly 50 years and does all the slate walling for Ceredigion Council.  He has built a beautiful retaining wall of Welsh slate around our pond and it looks fabulous.  It took 2 days
with hose pipe on to fill the pond!  We are putting the electrics in this weekend and getting the pump and filter working.
Thank you from a very satisfied customer.
Regards,
Graham Hunter
Gwynfro, Ceredigion
---
'Good afternoon Roger,
Thank you very much for the great service you have given me. The pond liner is now installed and pond filled with water. It looks great! Regards
Doug Beckwith'
20 August 2010
---
To Whom it may concern,
Ref: Pond Liner delivery and install at Margaret Cottage, Whitstable (10th August 2010)

I am writing to express my sincere appreciation and to thank you for the superb quality of service provided to me by your company earlier this week. To a company of your size, my little order may only be a drop in the ocean. But to me, this order represent a mega gardening project which will become my pride and joy for many years.

I am therefore extremely grateful that from the outset, I was given good quality advice, recommendation and assistance from Mr Roger Stapleton, who also took the time to review and correct my design ideas and when on to arrange for an engineer to visit and carry out the site work.


However, I have to extend the most gratitude to Mr Lee Dewy, the engineer who in the face of great adversity, was not deterred and proceeded to carry out and complete a fantastic job in the most professional manner, even though the heavens had opened up and he had to work sheltered under a saturated and dripping gazebo, knee deep in mud and water. Please thank Lee for all of his help and shear determination to get the job done, so as not to leave me disappointed. He is a real credit to your company.

Regards,
Delroy Marks
---
"Hi, I would just like to say that the liner I brought from you is excellent!! its fantastic quality, so easy to work with and if ever I do a pond project again I will come straight to you I will also be highly recommending you to friends. Thanks Dave."
This customer bought Epalyn 1.00mm Rubber Liner 61.75 m2  and Geotextile Protective Underlay 61.75 m2
---
" Just a quick note to thank you for dealing with my request so well. The liner was delivered with no problems and is now fitted, and the pond full with the fish. Really impressed with the product, it has worked very well forming to my pond design."

Best regards, Peter Finch.
The customer placed an order for Epalyn 0.85mm dimensions: 4.5m x 4.5m
---
Hi Roger,
"Received the items, Butyl Rubber Liner and Geotextile Underlay and they look very good quality. I will be fitting this weekend if it is mild and thank you for your excellent service".
Colin, Feb 25th 2010
---
Roger

Never did say thank you to you for arranging for my liner so quickly, from order to delivery 5 days, not bad.
I shall be contacting you again in a couple of weeks as I need a pond liner for the school where I work.
Rob, August 2nd, 2010
Return to Liners Online Homepage