The team at Liners Online have strived to create a website that allows users to place an order in the easiest and most straightforward way. This includes the functionality of the pond liner size calculator.
1. Click on the 'Pond Calculator' or on the main image on our Home page 'Need a price for your choice of pond liner?'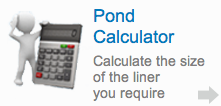 2. You will then be taken to the 'Pond Liner Size and Price Calculator' page. Select either the 'Imperial' or 'Metric' metric option.
3. Enter the length, width and depth dimensions of your pond plus overlap* into the pond calculator. This will give you the square metre or square feet dimensions of pond liner to order.
* = http://www.pondlinersonline.co.uk/pond-liner-installation
If you know the size pond liner you require, then just enter the length and width measurements leaving depth and overlap at zero to get the known square metre/feet dimension.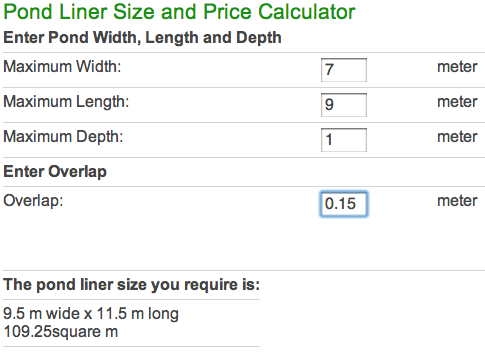 4. Select liner type – Butyl, PVC or either of the three Epalyn liner thicknesses. This step gives the price you will pay for the size pond liner required.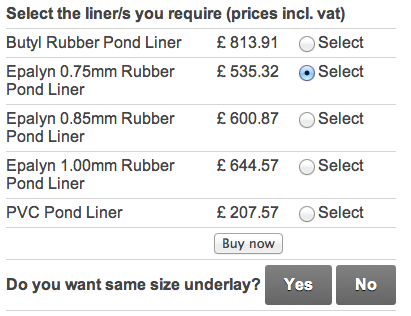 5. If you do not require a protective underlay with your order, then press the 'Buy Now' button.
6. If you require a protective underlay you have the option of selecting exactly the same dimensions as per pond liner – click on 'Yes' or you can insert different dimensions – click on 'No' and insert the dimensions you require and 'Select'.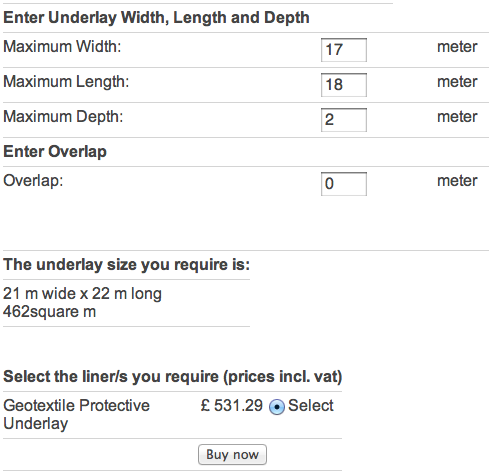 7. Press the 'Buy Now' button
8. You will then be taken to another page on the website to review your order details and add any special delivery instructions if required. Click on 'Final Checkout'.
9. Either 'log in' if you have registered with us before to automatically bring-up your address details or complete all the required details. Click 'Continue'.
10. You will then be directed to Sage Pay, the secure payment gateway used by Liners Online. Select card type to make payment, enter card details and then click 'Proceed' to confirm payment.