Rubber pond liners, unlike preformed ponds can be easily shaped to fit the unique contours of any pond dug-out, allowing more design flexibility. Flat sheet pond liner membranes and preformed liners are fish-friendly however we do recommend you buy your liner from a reputable company and that the product is labelled specifically for lining ponds.
The use of flexible Pond liners to create a pond is probably the easiest, quickest and most cost effective way to achieve a stunning water feature in any size garden. The flexibility of pond liners allows you the freedom to design a pond that suits your requirements. EPDM (or Epalyn as sold by Liners Online) and Butyl are both synthetic rubber membranes with excellent physical properties. Both liner types have similar properties despite having different chemical compositions, but EPDM is a less expensive product to manufacture and as a result its popularity has surpassed that of Butyl.
There are two types of EPDM, one is a roof grade membrane that has anti-bacterial and anti-fungicidal additives added in during the manufacturing process. It is used to water-proof flat to slanted roof properties. The other type of EPDM membrane is designed specifically for lining ponds, lakes and potable water tanks. EPDM pond liners are guaranteed fish-friendly and they don't contain any additives or talc. EPDM pond liners do not release chemicals that affect fauna or flora.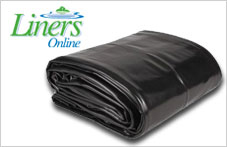 PVC liners are less expensive compared to other flexible liners, but their quality is not as good and they don't have the UV resistance properties of rubber liners. PVC membranes therefore need to be fully protected from exposure to the suns rays.
PVC pond liners are ideal for small, basic ornamental garden ponds. However, for larger more demanding applications, rubber pond liners are more suitable.
Liners Online specialise in supplying superior quality pond liners and protective pond underlay. The most common types to choose from are Epalyn (EPDM), Butyl or PVC. Overall, pond liners made of rubber are recommended, as they are more durable, flexible, moderately inexpensive and easy to work with. They are also more commonly used for Koi fish ponds versus a preformed liner.
For a lined pond, it is also wise to invest in a protective underlay, which acts as cushioning material between the liner and the surface of your pond excavation.