A pond liner kit as supplied by Liners Online include either an Epalyn 0.75mm, Epalyn 0.85mm or PVC pond liner cut to a set size, protective pond underlay cut to the same set size and a tube of waterproof pond sealant.
The pond liner kit price is INCLUSIVE of postage.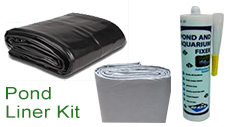 Select your choice of standard pond liner size as required. If none of these kit sizes meet your pond requirements, we also offer a custom option of ordering pond liners. If you are unsure what size pond liner you need to order, then visit our pond liner size calculator page. Enter the maximum depth, maximum length and maximum width measurements of the hole you have dug into our calculator, which will then give you the dimensions you need to order. To order a pond liner kit, click on the 'Buy Now' button. Save on delivery charges when you buy a Standard Pond Liner Kit.